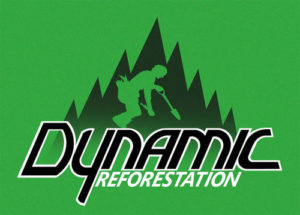 Get the most out of your 2020 planting season! Great prices, long season & excellent reputation.
2020 DETAILS
The treeplanting industry has never looked so good and Dynamic has another excellent season lined up for 2020, with great prices and consistent work from mid-April to the end of July.  Dynamic also has two fall-plant contracts, totaling approximately one million additional trees.
We have over 19 MILLION TREES!  Primarily with our usual direct-award clients with a few additional multi-year contracts, so planters can expect good contracts with strong pricing.
Our 2020 contracts are located throughout British Columbia in the Cariboo, Thompson Okanagan, and Northwest BC regions.  Start dates range from April 15th to May 1st, and we are looking at 60+ planting days regardless of what Dynamic camp you are in.
For those of you who want to keep on working, we also offer fire-fighting work that typically starts late July/early August and runs into the fall.

2019 SEASON EARNINGS STATS
Below are the average earnings per day for the 2019 planting season:
Experienced Planters
Rookie Planters
Top 5:
$566/day
Top 5:
$295/day
Top 10:
$493/day
Top 10:
$279/day
Top 15:
$463/day
WE OFFER
Strong prices
Excellent organization with full days and minimal downtime
3 days on and 1 day off shifts, with no breaks between contracts
Great people both leading and working in the company
Owners that are approachable and present in day-to-day planting operations
Smaller camps – usually between 40-50 planters
Amazing food and plenty of it, catering to various dietary needs
Great camp atmosphere
Ability to claim Remote Worksite Allowance of $80/day
Fire-fighting and other silviculture work, to extend the season into the fall

PROVEN TRACK RECORD
Our proven track record is built by enthusiastic, experienced men and women that work cohesively together and are responsive to the changing conditions inherent in our industry.
We believe in creating strong working relationships with our clients and our planters. Happy, well-paid planters give the best quality and production. We believe planters work hard and deserve to be treated with the utmost respect.
Our emphasis on building relationships and taking a positive approach to work, cultivates a culture focused on safety, quality and reliability.

WHO WE HIRE – VETS AND EXCEPTIONAL ROOKIES
We are fortunate to have a high percentage of returning planters but we always appreciate applications from planters with great attitudes, strong work ethic and a collaborative approach to their work.  If you feel this describes you, please apply on our website www.dynamicreforestation.com and someone will contact you shortly.
Experience is preferred, but we always have openings for exceptional applicants new to the treeplanting industry  
We look forward to another year of good planting, good people and making a few more good memories!
Miles, Jeff & Bryn
Owners