As one of the most physically and mentally demanding jobs in Canada, tree-planters deal with some extreme living and working conditions. For the first time, their stories are told from inside in this amazing documentary 78 DAYS, the untold chronicle of reforestation season.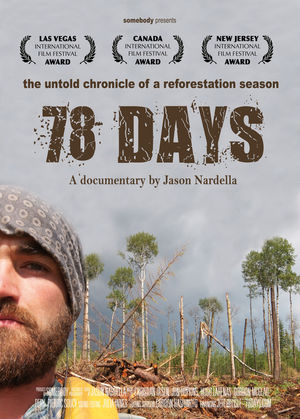 Would you dare to work 78 long days by yourself in the baking sun of desolate clear cuts, expecting rain storms, or suffocating stagnant air that can suddenly change into subzero temperatures? And what about being under a constant bombardment of insects or facing bears while you're stuck into endless swamps? Welcome! That's tree planting in northern Alberta!
During an almost four-month season, veteran tree planter and film director, Jason Nardella followed tree planting crew's progress and struggles in northern Alberta. Dividing the unusually long 78 days season into a series of chapters, the film tells the daily life of veteran tree planters squad as they deal with harsh working conditions and a never ending contract.
This happened in 2008, when Wildwoods Reforestation relied on a very experienced crew to complete the daunting task of planting over 10 million trees in a 15 week period. This was an intense ordeal that involved helicopters, adventures in floating machines, sudden windstorms, etc…
Facing Nardella's cameras, planters candidly share their experiences as they struggle through each day of what has become the longest and most difficult season in the company's 20-year history.
And guess what? Nothing has changed since in northern Alberta!
More than a documentary, 78 DAYS, the untold chronicle of reforestation season is a must-to-see story for all (future) tree planters!
Official website: http://78daysdocumentary.wix.com/official
Available for purchase on: http://distrify.com/films/7755-78-days
Documentary / 2013 / 62 minutes / Canada / HD Format 16/9
Director: Jason Nardella / Production: Somebody
English original version / French subtitled version