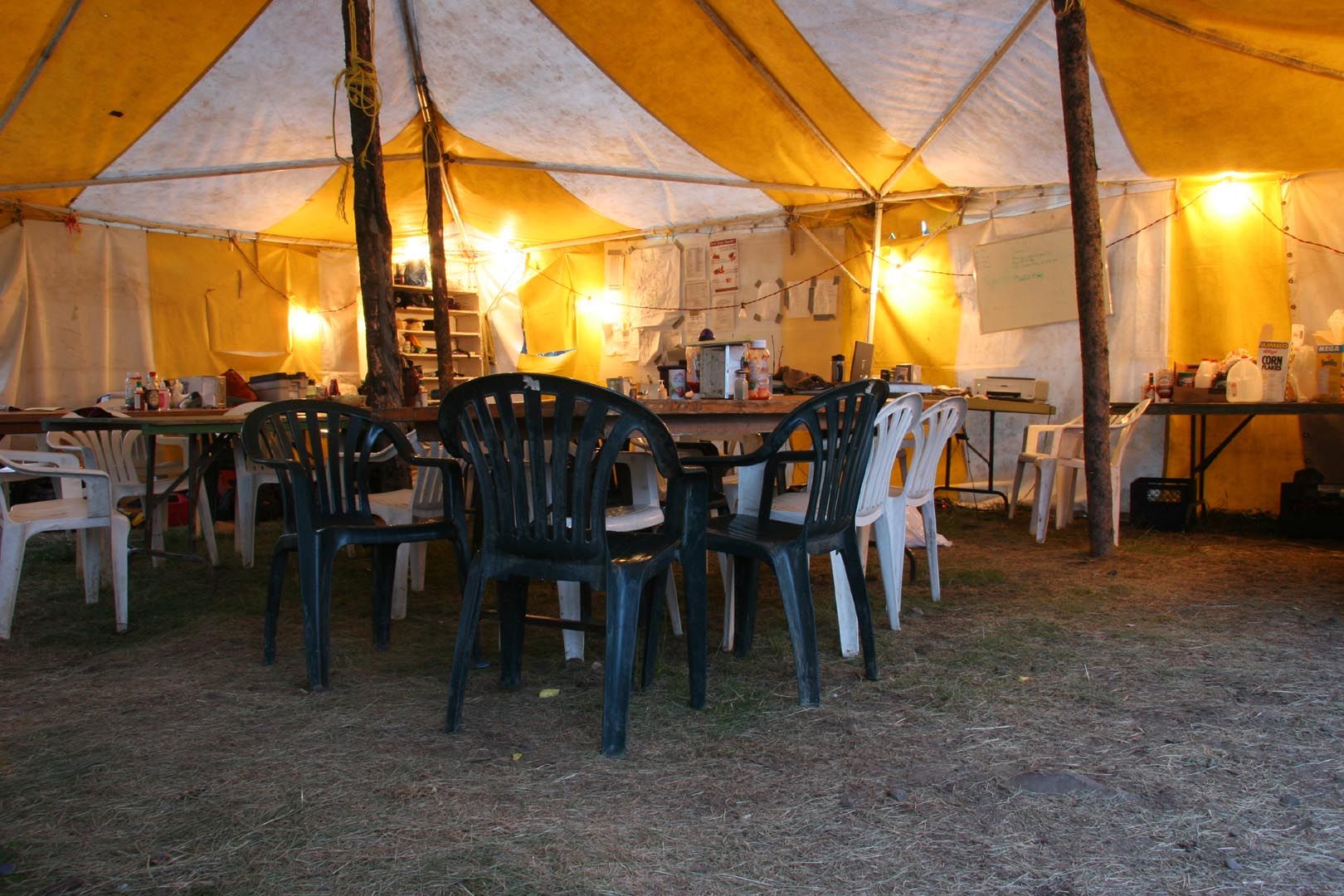 You can live in the bush with a certain level of comfort. Here are a few tips that will make the rain, rocks and bugs somewhat bearable.
Setting Up
When choosing a personal campsite, treat it as your own free piece of real estate. Take some time in selecting your spot.
Find a place that is slightly elevated if possible.
Never choose a spot in a low-lying area, unless you want your own indoor swimming pool after the first major rain.
Try to find shelter in the trees. Trees offer moderate protection from the wind and rain, and will assist in the hanging of your tarp.
When choosing a site, survey the immediate area for any dead, leaning or burnt trees that could blow down and hit your tent.
Be sure to clean away any rocks or sticks from your site that may puncture your tent floor, or even worse, become apparent at 3 a.m. when you roll over onto them.
If the ground is a little rough, try pulling some empty seedling boxes under your tent. Be sure to put a tarp over the boxes and under your tent to avoid the wax wrecking your tent floor in the heat of summer.
Try to distance yourself from the center of camp. This will shelter you from noises such as generators at 4 a.m., late night partiers and foremen coming in late from the block. Do not distance yourself too much from the majority of the tent sites. If you are on the outside of camp, you will be the first to have furry visitors.
Try to set up your tent so that the door is facing camp.
Hang your tarp on a slight angle so that water will drain to one side, eliminating the chance of pooling in the middle of the tarp.
Dig trenches around your tent directly below the outer edges of your tarp. This will hopefully keep you and your gear dry.
Ensure that both your tent and tarp are well secured. Wind can wreak havoc on tarps, and tents not properly secured have been known to go missing in a storm.
Quick Story
This a picture of my tent on a 42 day fly in (no town days) contract. My chosen tent location turned out to be right where the helicopter wanted to bring in slings of food for the camp. Instead of moving to avoid the once a week tent wrecker, I built a bit of a fort to shield me from the rotor blast.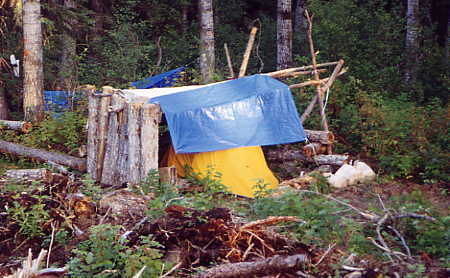 Bush Leisure
The life of a tree planter will always include a certain amount of "down time". This may include evenings in camp, fog days on a helicopter contract, late shipments of trees and even the odd snow day early in the spring season. During these times of rest, rather than sitting staring blankly at your tent wall, take along something to keep you amused.
Here are a few common items:
Musical instruments (guitars, harmonicas, bongos, etc)
Deck of cards
Board games
Hacky Sack
Books
MP3 Player