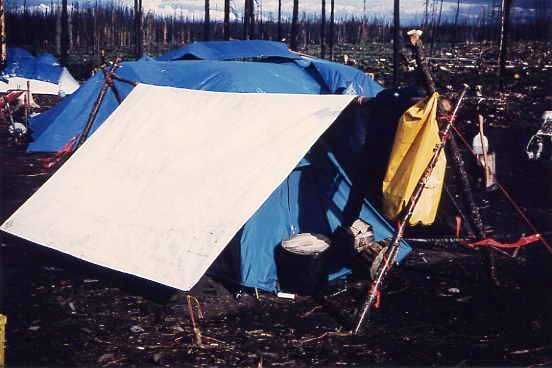 If you are going to be living in a bush camp, you are going to need a good tent set-up. Any sort of deficiency in this department could really suck if the weather gets nasty – and it does.
Before heading out for a season in a bush camp, you will need to ensure that the camping gear you may currently have will meet your needs over a 50-70 day season. Here are some items for consideration.
Ground Sheet
Groundsheets are placed under the tent to reduce moisture and to deter rocks and sticks from punching holes in the bottom of your tent. Make sure the sheet is slightly smaller than your tent or that you tuck the edges under your tent when setting up. Protruding groundsheets tend to work against you, as they will track water under your tent into a pool.
Tarp
This is an extremely important piece of inexpensive gear. A tarp will:
Provide shelter for you against the elements.
Protect your tent from UV rays, which can greatly reduce its lifespan.
Offer you extra space outside your tent to hang or store items without fear of them getting wet.
When buying a tarp:
Make sure that the tarp is at least 1.5 times the size of your tent.
Make sure it has lots of grommets. Tarps with grommets only on the four corners can prove difficult to hang.
Bring some twine or rope to help you suspend your tarp from nearby trees.
Tent
Bring a tent that is big enough for you to live in. A one or two person tent is really going to test your sanity. A solid 3 person tent is ideal.
Look for a tent with a vestibule. This will give you some extra storage space to keep your stinky boots dry and out of your sleeping area.
Make sure your tent has no-see-um netting to keep insects out. Closures on the door should be sturdy, as a mid-season break will make your sleeping body a bug buffet.
Avoid super cheap tents and don't bring your parents 1970's style canvas circus tent.
Learn how to set up your tent in advance of the season. You might have to set it up at night or in the middle of a rain storm.
Sturdy Tent Pegs
Frequently, you have to set your tent up on ground where normal tent pegs don't work so well. Really hard ground bends tent pegs and some forest floors have deep duff that your 6″ tent pegs are too short to be functional in. The solution to both of these problems is to get six to ten 10″ spikes. These can be acquired at any hardware store in the GIANT nail section.